A month or so ago I was looking to buy a new scope but with some custom guns on order etc. I didn't want another Alpha-Priced purchase so close to Christmas. Ideally, I was looking for something that fell between the price points of the Vortex PST II and the Vortex Razor II ( which, in Canada, means somewhere between C$1500 and C$3500 ) and like everyone else out there I wanted the features and glass to be nearer the latter than the former !
I had read quite a lot about Athlon on US forums and people seemed very impressed – particularly so by their top-of-the-line Cronus BTR – and I figured that this 'Made in Japan' 4.5-29×56 scope in Mils would work just nicely for me.
Athlon is distributed in Canada by Scott Gaalaas at Red Star Target in Alberta which gave me confidence.  While I've not met him in person, Scott is known in the shooting community as a real shooter who actually uses the products he sells and who offers top-notch service to customers whether they are buying a scope or a bunch of paper targets.  How much better to deal with a genuine gun guy than it is to deal with a salesman who will happily bullshit about anything just to make a sale.
Priced in Canada at around the C$2700 mark ( US MSRP is US$2159) the Cronus BTR is in a tough market segment as the price point is comparable to the lower end Nightforce, the Steiner T5Xi and the Bushnell Elite 4.5-30 each of which scopes have strong followings.
Athlon pride themselves on customer service and back their product with a Vortex-like "no questions" warranty ( more on this later! )
My Cronus BTR arrived from Red Star Target securely packed in a box with a sunshade ( an extra cost ) a cleaning cloth and an owners manual that is properly written in a version of the English language understandable by all but the chronically unschooled.  Also included were some stickers and ( a freebie from Red Star – thanks Scott !) a nice T-Shirt which, sadly, my wife has purloined for a sleeping shirt.  Oddly though – especially in a $2K plus item – there were no scope caps at all. Come on Athlon, even Bushnell include some scope caps.
First off I will admit to being a bit old-fashioned and so I equate a nice heft to a product with quality and the Cronus BTR feels suitably weighty without being too heavy.  Actually it weighs 35.8 ounces which is positively a featherweight compared to my Vortex Razor II's.    The finish was nice and even and upon close examination  the whole scope had that hard to describe quality feel to it.
For the tech spec junkies all the data re: this scope can be found here:  https://athlonoptics.com/product/athlon-optics-rifle-scopes-cronus-btr/
I chose the mil/mil version of the Cronus BTR with the illuminated APRS FFP reticle which is a Christmas Tree-style reticle without being so terribly "busy" like some are.  Overall, I like it – it is a good balance.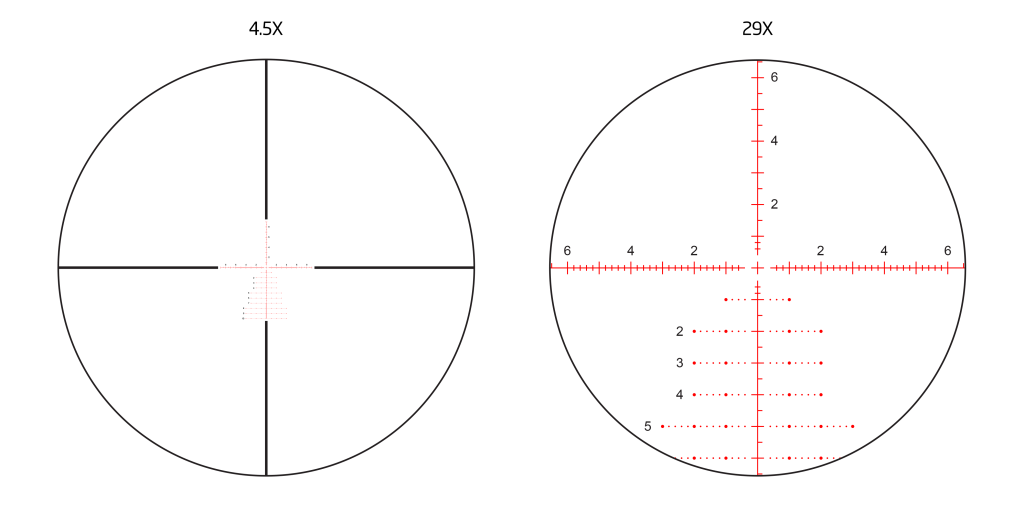 After examining the scope and doing the obligatory spinning the turrets that we all do I mounted the scope on my test mule and headed out to do some glassing and shooting.
I have to say that I was ( I am ) very impressed with the glass on the Cronus which is  very bright and clear with no discernible CA. Optically the Cronus BTR really gives up nothing to my Razor II's and – of the scopes I own – is only (slightly) bettered by my USO ER 5-25×60, ( a bit more) by my NF ATACR's 5-25×56 and 7-35×56 and (quite clearly) by my S+B PM II's but each of these are scopes that cost a LOT more money than what I paid for the Athlon.  Compared to scopes in a more comparable price range I found the Cronus glass to be a bit better that my Steiner T5Xi and quite superior to my Bushnell DMR and DMR II's.  Of course – usual disclaimer – these are side-by-sides using my eyes not yours but I very much doubt that any Cronus BTR buyer is going to complain about this Japanese glass !
Since we are looking at a reasonably expensive scope I will be a bit picky about one thing – the sunshade doesn't match the scope body.  Yes, this is a minor quibble ( and one that is shared by my NF ATACR as it happens ) but cosmetics are important and to some they are very important.
Of course, glass is only one part of the package – honestly, if glass was the only important thing we would all simply buy S+B PMII's and be done with it – but in using the Cronus BTR on my test mule I found nothing not to like.  As follows:
Magnification – an excellent and useable range and the mag ring moves with just the right amount of pressure ( and it has a high spot like a built-in mini throw lever )
Turret markings – easy to read for my aging eyes.
Clicks – audible and a nice feel.  Not too close together ( unlike my S+B for example ).
Side focus – a little stiff to operate but easy to get into focus.
Illumination – honestly, a feature I don't really use but the Cronus BTR has 11 settings with a convenient off between each one.
Overall, I would like the turrets to be a little flatter ( and fatter ) and I don't like them quite as much as my ATACR's or Razor II's but this is a very, very subjective thing and, by way of contrast, I happen to like the Cronus BTR turrets than those on the PST II, Burris XTR and, quite frankly, my USO ER and S+B PM II.
One thing that some may not like is that the turrets on the Cronus BTR don't lock into place – I used to really like that feature but I've gone away from it now as I find sometimes when using my Razor II that I've forgotten they were locked – grrr.  Likewise, the capped windage on my NF ATACR's is ( at least to me ) a solution in search of a problem but YMMV so if these are important features to you … well, the Cronus BTR doesn't have them.  It does however have one feature which I – and many others – think really important – zero stop.  This is where I found out how good the Athlon warranty is…
The Cronus BTR Zero Stop (ZS) is accessed simply by removing the cap and then three small screws can be loosened to set the stop.  Mmmm, somehow during this simple process one or all of the three couldn't be loosened and so I couldn't operate the ZS – a call to Scott was followed by a call from Jason at Athlon who, after I described the problem, immediately sent a new scope out to Scott and onward to me.  Sweet, simply handled – and my return postage was covered !   This 'problem'  – which may have even been my fault forgetting my clockwise from counter-clockwise – was absolutely a non-issue and I was looked after perfectly.  This gives me immense comfort that Athlon is serious about after sales servicing of customers.
Overall, I find the Cronus BTR to be an excellent package that scores very highly on the "Value Per Dollar Spent" scale and it feels very much like a scope that performs at top-tier level without the top-tier price.
The Cronus BTR – A Value That Is Not Out Of Place Amongst Much More Expensive Glass